2017 will see another Climate Camp! From the 18th till 29th of August there will be networking, education, arts and actions… and trying out tomorrow's society right now – social, ecological and based on grassroots democracy. At the camp the Degrowth Summer School will take place for the third time, where the concept of degrowth is put into action: By learning practical skills and analyzing political and economic developments. During the action days in the Rhineland there will be different demonstrations and actions to suit everyone's taste. Our video provides a great overview:
What are the action days in the Rhineland?
From August 24 to 29, during the action days in the Rhineland different forms of actions will take place next to each other in a solidary fashion. This can include demonstrations, small group actions, human chains, mass actions of civil disobedience and more. There is a focus on climate justice and resistance against lignite, but many topics can be added to this!
What's the Climate Camp?
Climate Camps are the heart of the climate movement. Just like at other Climate Camps, in the Rhineland we will be….
…living alternatives together: anti-authoritarian self-organisation, our own energy supply, compost toilets, music and much more!
…creating networks. At the camp it's not only people who meet, but also movements.
…educating ourselves. There will be courses, workshops, open space, panel discussions, spaces and events for children and teenagers, and a cultural programme. We will deal with a diverse range of topics, from theoretical analysis of climate change to practical stuff like building a windmill.
…developing actions. There have always been actions protesting against coal over the last few years at the Climate Camp. In 2015 Ende Gelände took place here, last year the action lab was our guest and in 2017 there will be many different actions as part of the Action Days in the Rhineland.
What's the Degrowth Summer School?
This is the third time the Degrowth Summer School is taking place at the Climate Camp. With its four day-courses, the Summer School will cover a wide range of topics: from practical skills to activist strategies and scientific debates. This year's main topics are "Degrowth perspectives on the future of the Rhenish lignite region", "Psychology of change" and "Skills for System Change". The courses require prior registration. Get more info at the Summer School's website.
Why in the Rhineland?
Every year since 2010
a Climate Camp has taken place in the Rhenish lignite mining area. This coal field is the biggest emitter of carbon dioxide in all of Europe. Still people are forced to resettle and villages and landscapes are destroyed, all for coal mining. In addition to the Climate Camps, the
Hambach Forest
has been occupied since 2012. In 2015, the action "
Ende Gelaende
" was a peak of the climate movement: more than a thousand people occupied a coal mine for one day.
News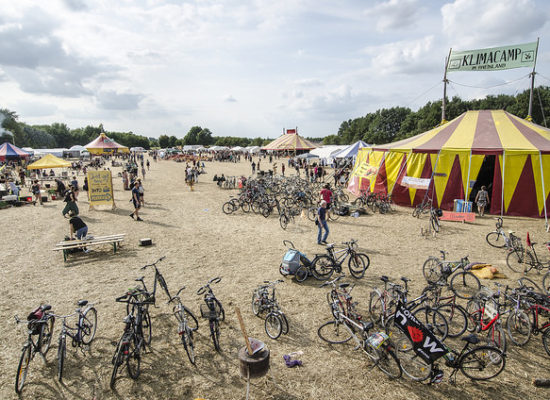 Dear all, if you lost something on the Climate Camp, here's how to get it back (or say farewell): All things we classed as "valuable" have been saved. Please write to klimacamp-im-rheinland@autistici.org if you're missing something that we might have stuck in that category. We didn't consider towels or dirty underwear or anything like that as […]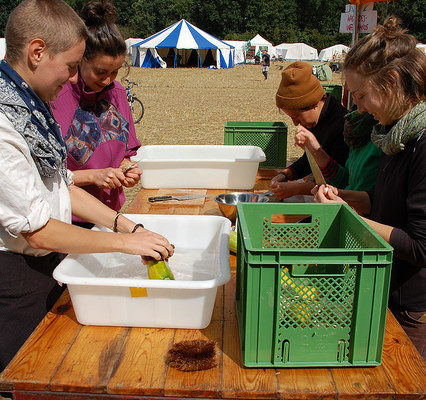 It was a pleasure to built up the camp, to learn and to block coal infrastructure with all of you! Our fabulous kitchen crew is still missing some money to cover all costs. You forgot to donate? No, problem, you can transfer your donation to this banking account: Gaarkeuken Den Troag IBAN: NL52RABO0187631360 BIC: […]
At the climate camp, Carlos Mairoce offered a workshop on coal mining and resistance against it in Mozambique. You can watch the whole workshop here:
See all our news