You can find pictures from the climate camp 2016 on Flickr, Videos on Vimeo and here a overview from the Action Laboratory – climateactionmap and on twitter: #climatejusticeaction ClimactionMap
And here is invitation to an Rhineland Action Conference on 28.-30 Oct. 2016 in Cologne,  to discuss ideas for 2017: Invitation Action Conference Cologne
About the climate camp 2016
Climate Camps are the heart of the climate movement. Just like at other Climate Camps, in the Rhineland we will be….
…living alternatives together: anti-authoritarian self-organisation, our own energy supply, compost toilets, music and much more!
…creating networks. At the camp it's not only people who meet, but also movements.
…educating ourselves. There will be courses, workshops, open space, panel discussions, spaces and events for children and teenagers, and a cultural programme. We will deal with a diverse range of topics, from theoretical analysis of climate change to practical stuff like building a windmill. Each day there will be a specific topic, addressed in different kinds of events and discussed with everyone, for example "understanding systems" or "developing utopias". You can find more information on our homepage.


…developing actions. There have always been actions protesting against coal over the last few years at the Climate Camp. This year, after the Degrowth Summer School has ended, the ActionLab will be a guest at the Climate Camp.
What's the Degrowth Summer School?
This is the second time the Degrowth Summer School is taking place at the Climate Camp. Last year's focus was on the influence of growth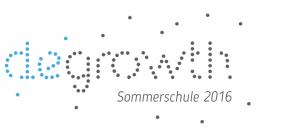 on climate injustice. Now we want to work together on skills we need for overcoming this dependence on growth. The Summer School consists of courses that run for 2 to 4 days in which a stable group works on a specific topic. You can register for the courses on the Summer School's homepage.
We want a good life for everyone!
Why in the Rhineland?
Every year since 2010 a Climate Camp has taken place in the Rhenish lignite mining area. This coal field is the biggest emitter of carbon dioxide in all of Europe. Still people are forced to resettle and villages and landscapes are destroyed, all for coal mining. In addition to the Climate Camps, the Hambach Forest has been occupied since 2012. Last year, the action "Ende Gelaende" was a peak of the climate movement: more than a thousand people occupied a coal mine for one day.